The aim of the programme is to train and support creative individuals who aspire to a career that utilises their creative skills.
The course facilitates development of a range of skills vital to becoming an independent professional including: composition for film, TV and computer games, studio production and engineering, mixing, remixing and mastering, DAW production, video editing and processing, industry practice and protection of intellectual property. The course is fast-paced and heavily practical, encouraging students to explore their individual artistic interests in order to develop as practitioners. The course is ideal for those with a passion for creating music and a desire for a career in the creative industries.
Each year of the programme has a unique focus in providing students with the techniques, knowledge, and methods in order to become a professional creative. The first year is the 'skill' year where a foundation of skills, techniques, knowledge and methods will be introduced. The second year is the 'practice' year where the skills, techniques, knowledge, and methods will be utilised in music composition/production/performance. The third year is the 'professional' year where students are provided with opportunities to develop their artistic intentions and present themselves to the industry as professional practitioners.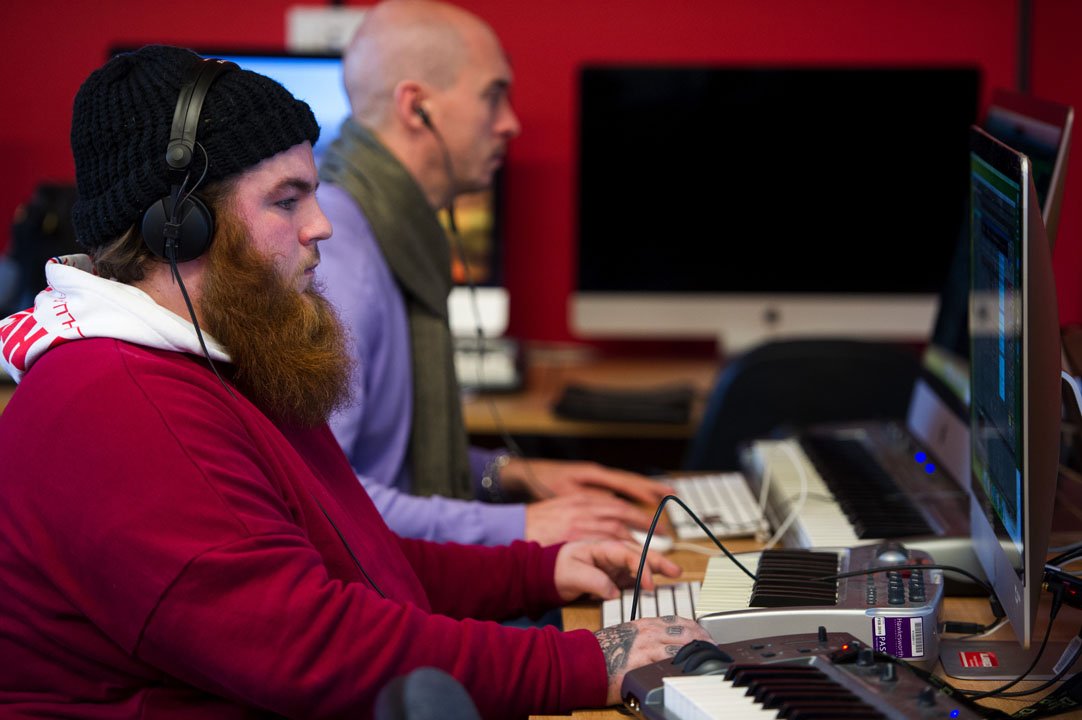 How you'll learn
Our courses are designed to give students the best possible chance for success to enter the industry. Each course has its own unique way of doing this, but ultimately each one follows the same tried and tested formula.
Year One
Skills and Technique
Year Two
Challenges and Projects
Year Three
Professional and Specialism
Further Details
Please select an accordion below for more information:
Academic Entry Requirements
English at grade C/level 4 or above
80 UCAS points
Non-Academic Entry Requirements
All applicants will have an interview with a member of the teaching team in which they will be expected to demonstrate examples of their creative work.
Due to the creative nature of this course, alternative entry routes are possible; a proven track record in the area and an interview (including short skills tests) may result in places being offered even without the previously mentioned qualifications.
The vast majority of this course is based around practical, hands-on work and experience. You cna see how assessments are split by year below.
Year 1
30% practical
35%, portfolios
15% presentation
20% academic
Year 2
45% practical
30%, portfolios
10% presentation
15% academic
Level 3
20% practical
45%, portfolios
15% presentation
20% academic
The fees for this BA (Hons) degree in Music Production and Composition are currently £7,000 per year. 
See more about fees, finance and funding on UCEN Manchester website here. 
All courses are fundable through Student Finance England.
All of the books required for the course are available from the library. However, many students choose to buy some of the core textbooks for the course and/or a laptop. Students may also need to print their assignments and other documents. Campus printing costs start from 5p per page.
Estimated costs are £300 for a laptop up to £100 each year for books and printing.